Wedding Rings 2020. Trends and Most Beautiful Designs.
If the wedding is right around the corner, and you are not yet neck deep in festive preparations, then it is time to choose the main wedding symbol – the wedding rings. Traditional bands in gold are a classic choice, but these days, couples tend to choose bespoke wedding rings of designs that can include almost anything, from a set of precious stones to a mix of various precious metals.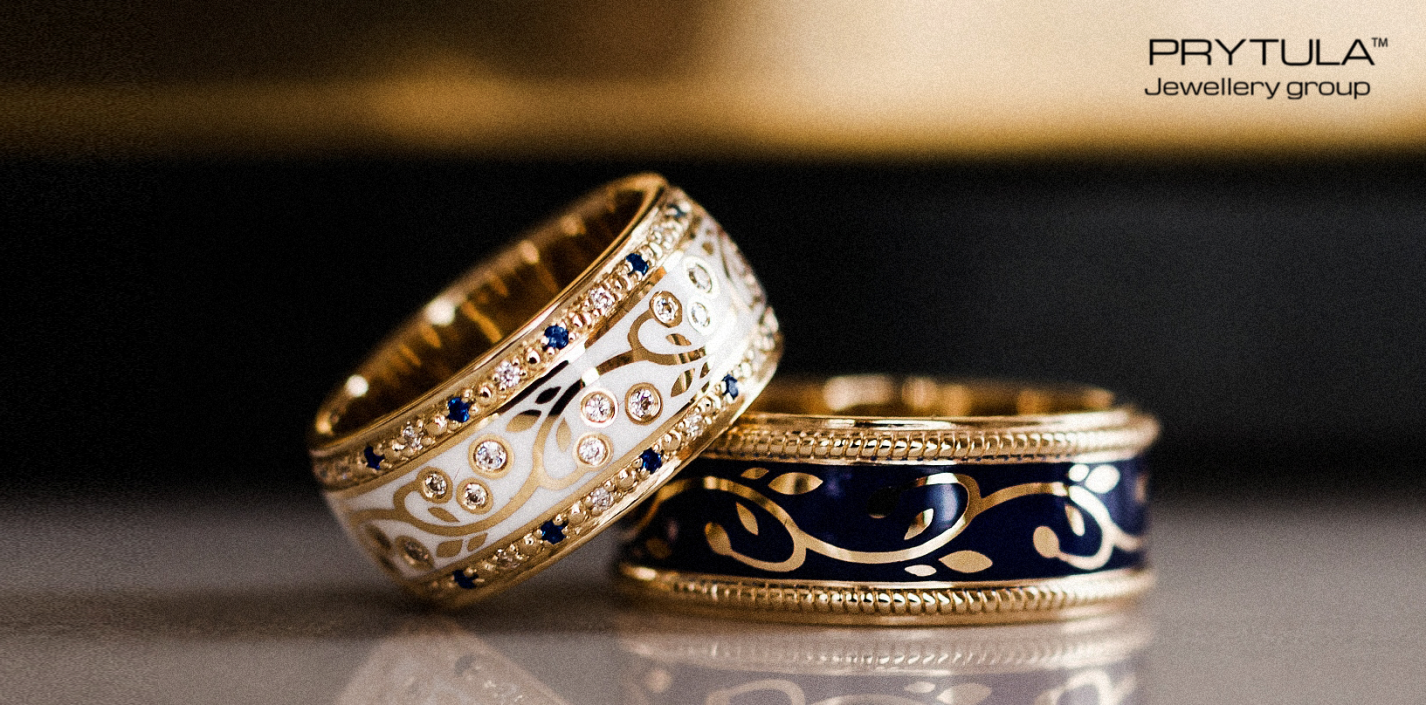 The year 2020 is no exception, handcrafted jewellery continues to be hugely popular, since nothing is more valued than hours of jeweller's hard and meticulous work put in on making a piece of jewellery. It is worth noting that we at PRYTULA JEWELLERY GROUP offer handcrafted wedding rings only; applying various techniques, we make them even more special and unique. One of such techniques is jewellery enamelling. Our wedding rings with enamel are of excellent quality.
To make these rings, we use expensive, top quality German enamel.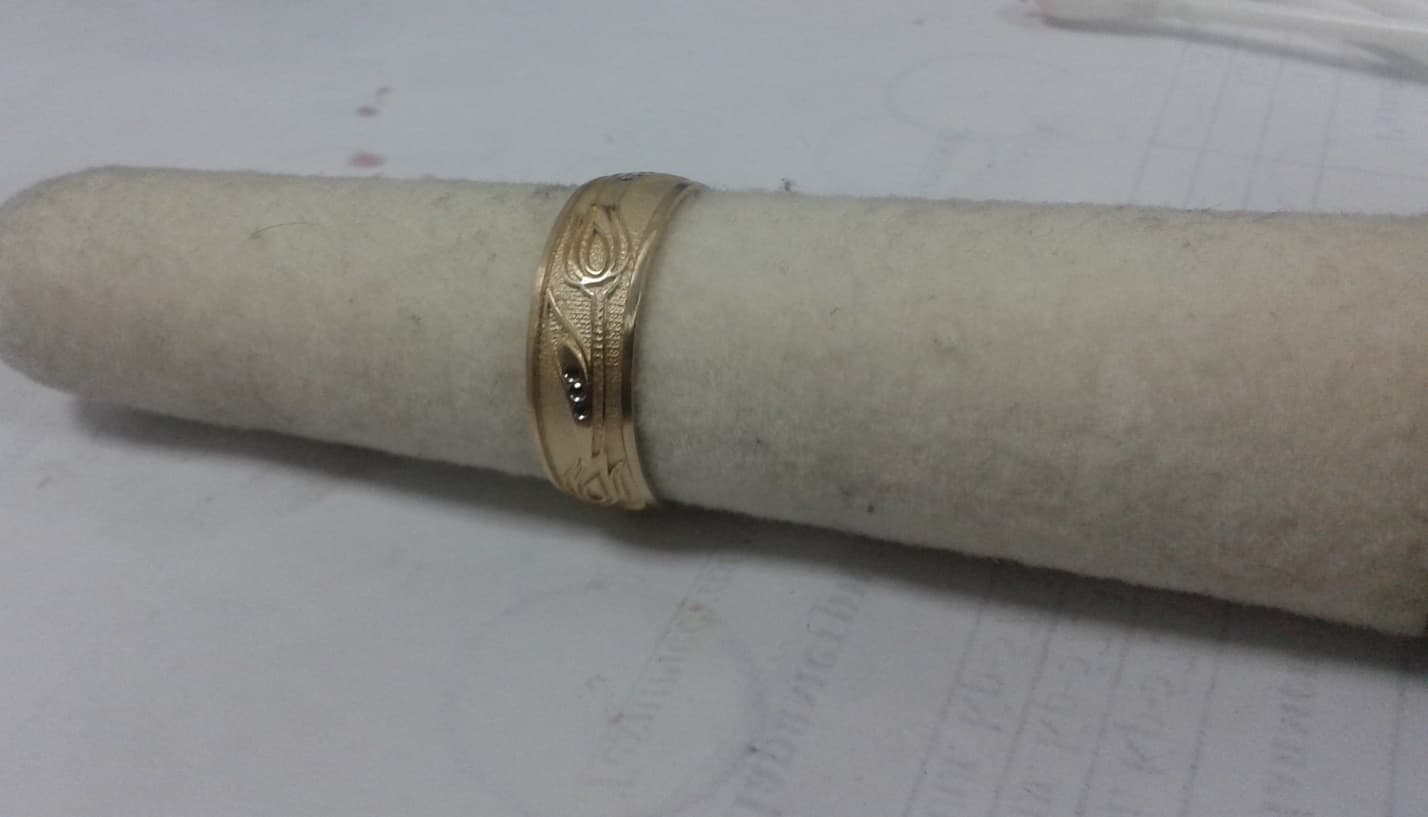 The jewellery enamelling technique is somewhat similar to how dentists do photopolymer fillings. The enamel is dried with an ultraviolet spot gun, which makes it very durable; as a result, the enamel does not chip and scratch easily and looks glossy. We have been using this technique since 2014, and customers report that our rings and earrings wear well, which empowers us to give a lifetime warranty (!).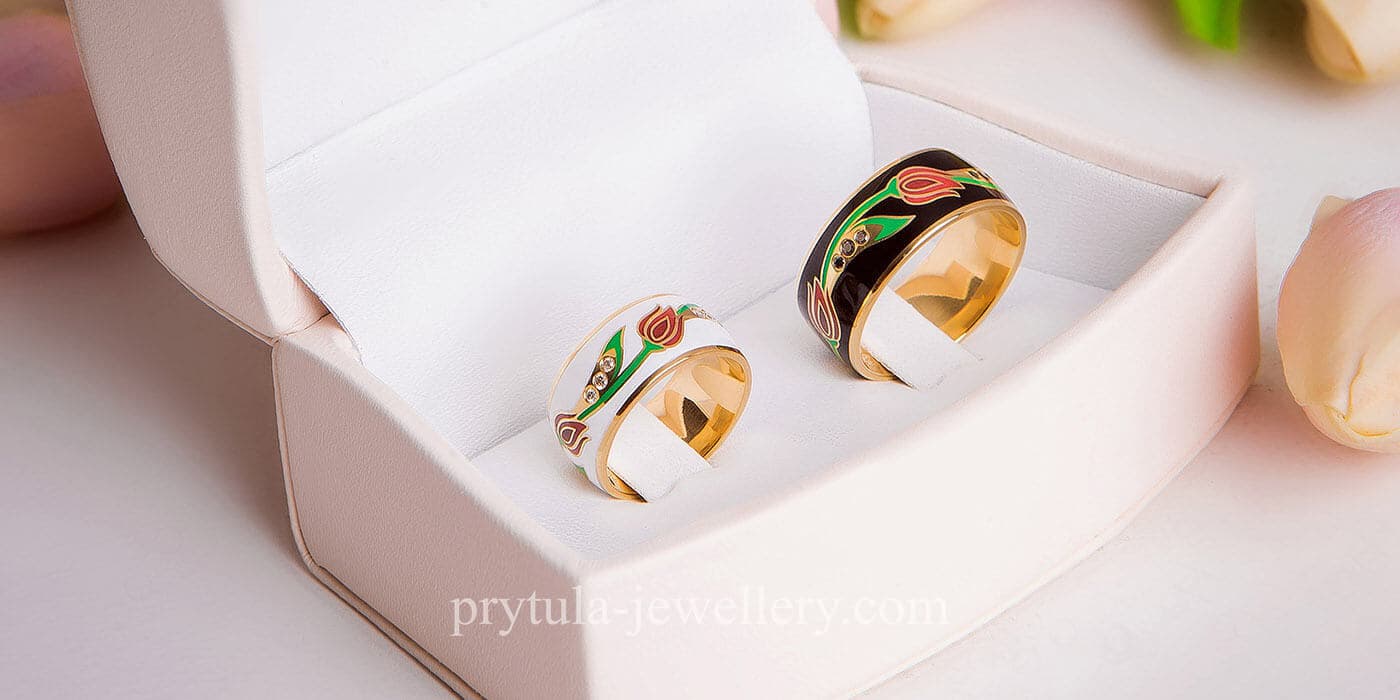 In our jewellery workshop, we make wedding rings with diamonds. The Carefree Happiness design strikes a perfect balance of enamel inserts in different colours and the metal base of yellow gold. The enamel also goes perfectly well with metals of other colours; in the Magnificent Orchid design, it harmonizes with rubies and white gold.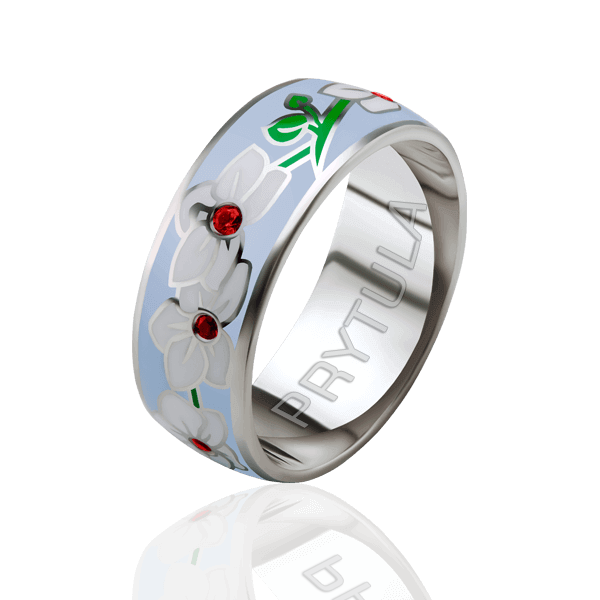 Mixing metals of different colours has been a consistent trend for many years. Back in 1924, Cartier Jewellery House created its famous Trinity Ring, which has become an icon among the jewellery classics. It is composed of three interlinked bands of pink, yellow and white gold, forming an elegant composition. Our Spring in Paris wedding ring features the same combination of gold bands with diamonds set in.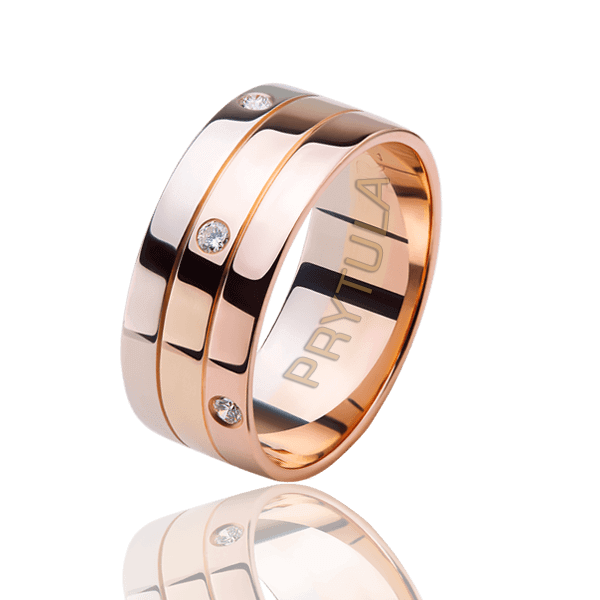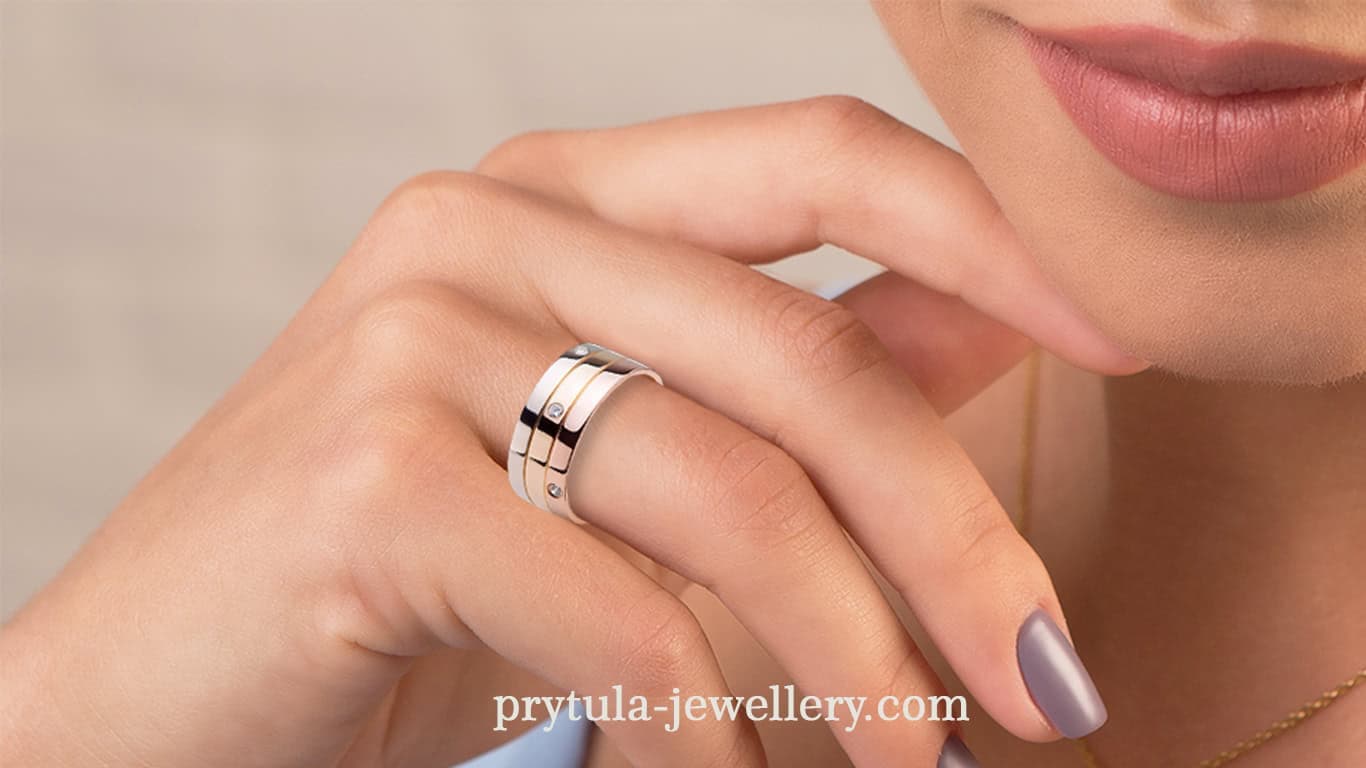 The company's symbol and logo are swallows.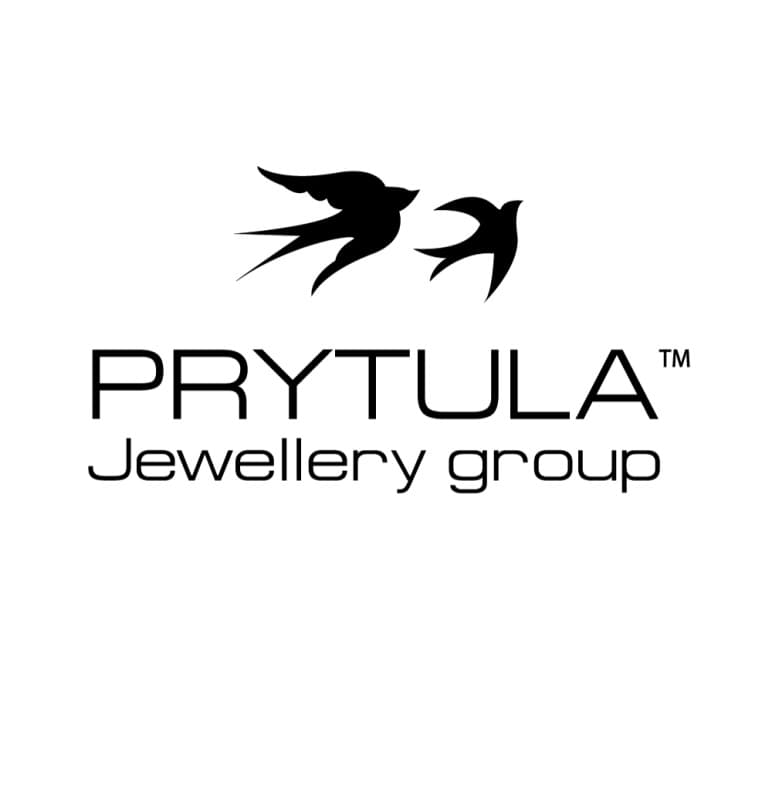 The swallow has always associated with a home hearth and mother's tender care. In Christianity, the swallow is a symbol of the resurrection and beginning of a new stage in life.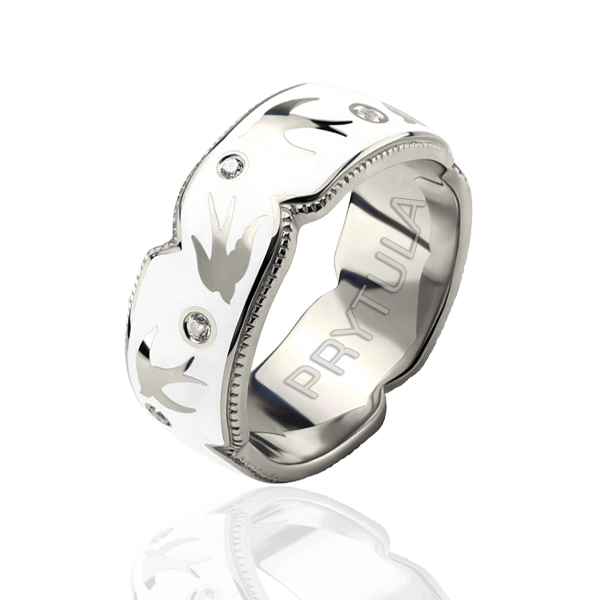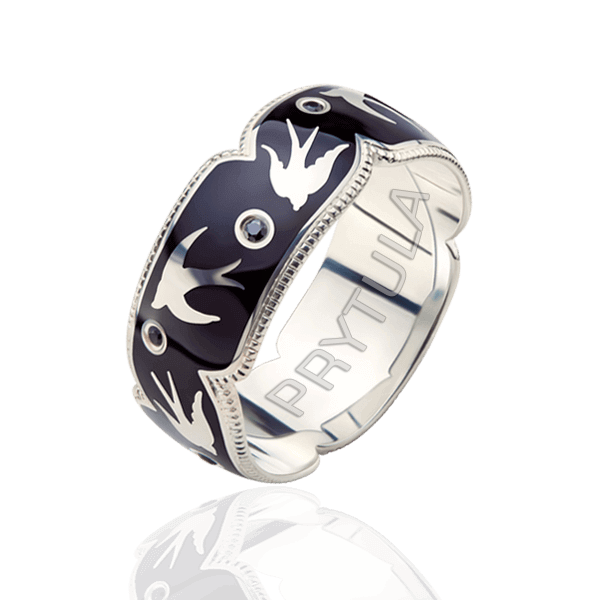 The Flight of Swallows designer ring is made of white gold with diamonds and enamel encompassing beautiful design, symbolism and practicality of form and material in daily use.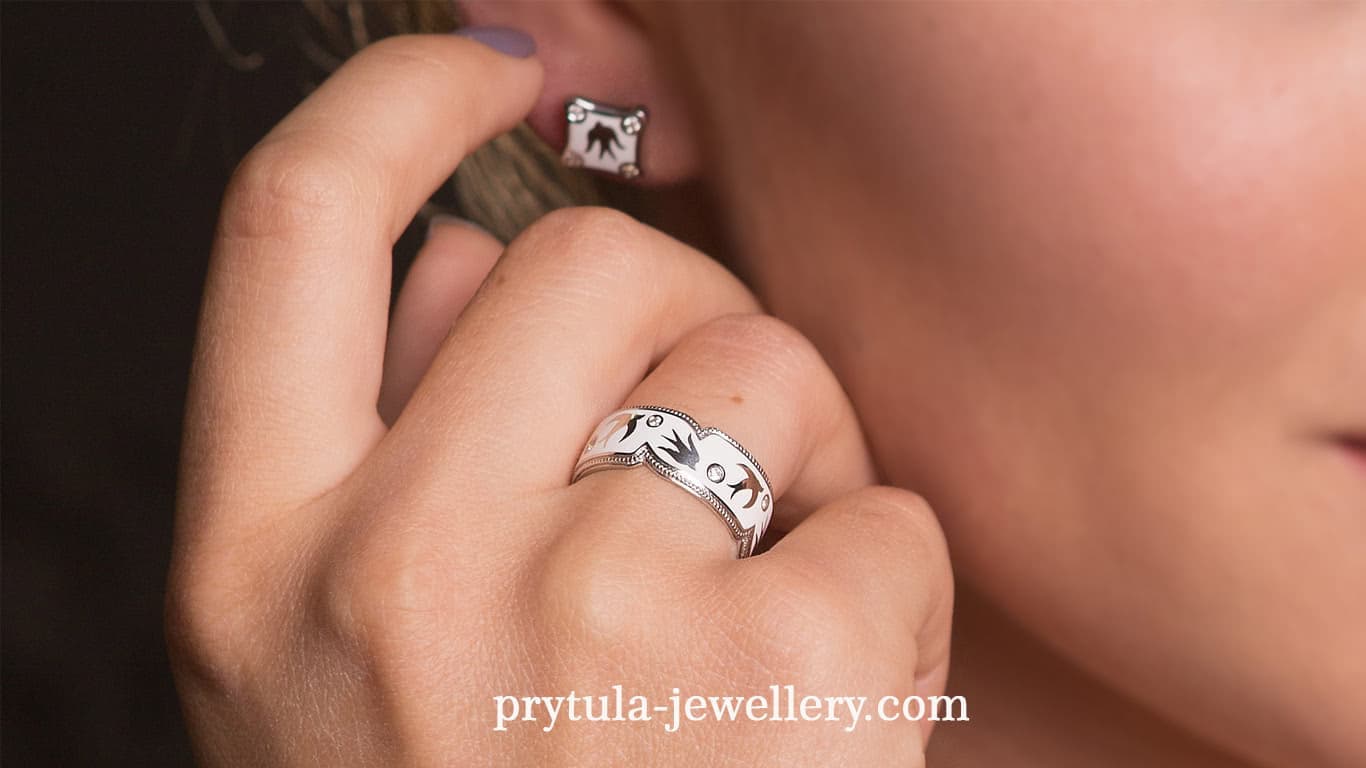 The photos show an engagement ring and a poussette earring from the Flight of Swallows collection, as well as a men's ring with black enamel and black diamonds.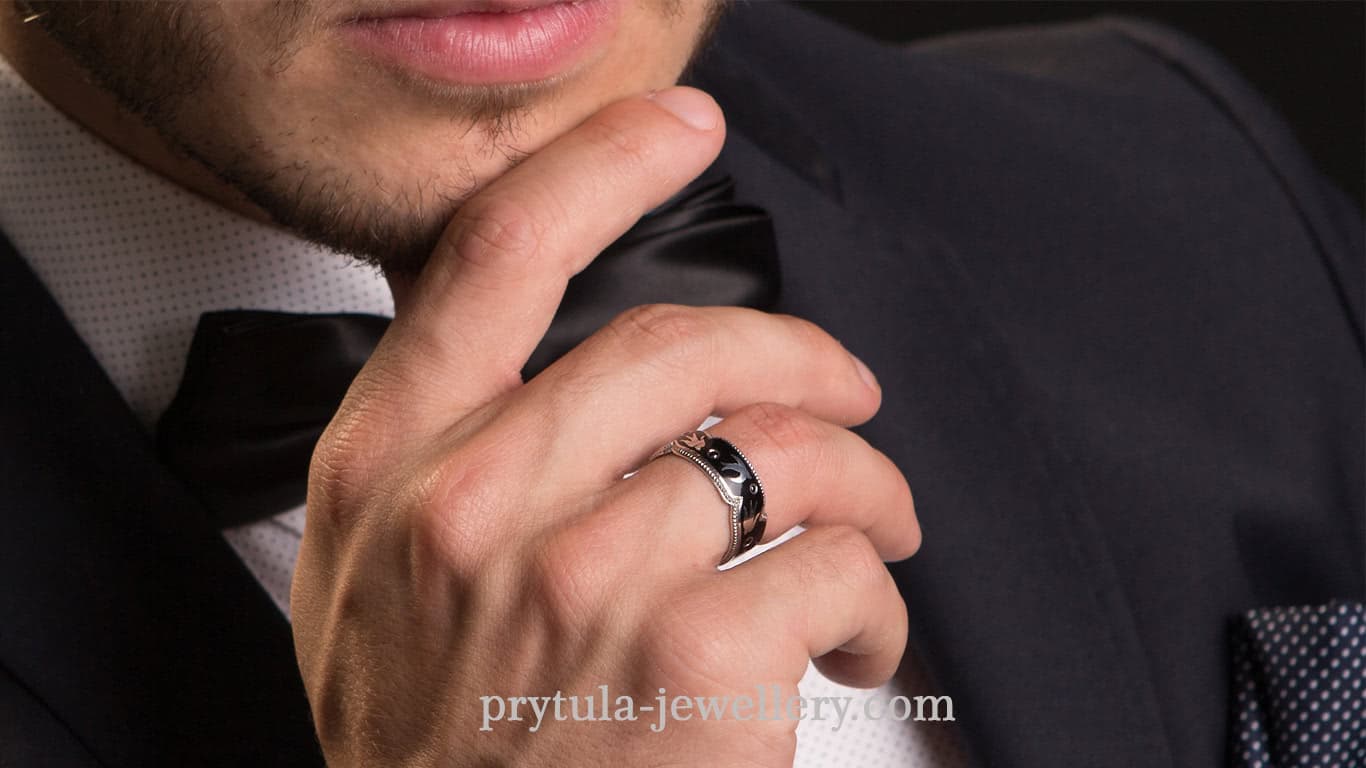 The exclusive Fairyland Meadow wedding ring is made of our signature materials: gold, enamel, pink sapphires and diamonds. However, if you want even more of the latter, then choose men's wedding rings with black diamonds, they are a dominant trend this year. In our catalogue, you will find the Fairy Tale men's wedding ring design, which stands out thanks to the combination of yellow gold, black diamonds and emeralds.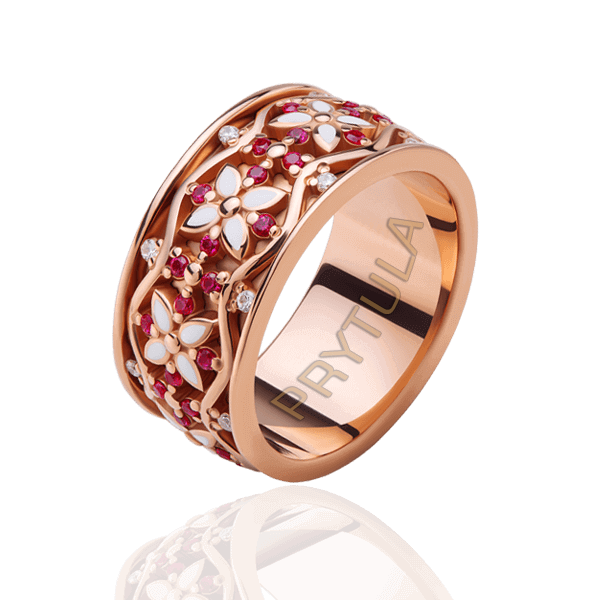 In modern families, there has been a steady trend for many years to order new rings for wedding anniversaries. Designer wedding rings with sapphires or emeralds will definitely appeal to your soul mate. In the Born for Happiness design, sapphires make a perfect duet with diamonds, adorning a yellow gold band.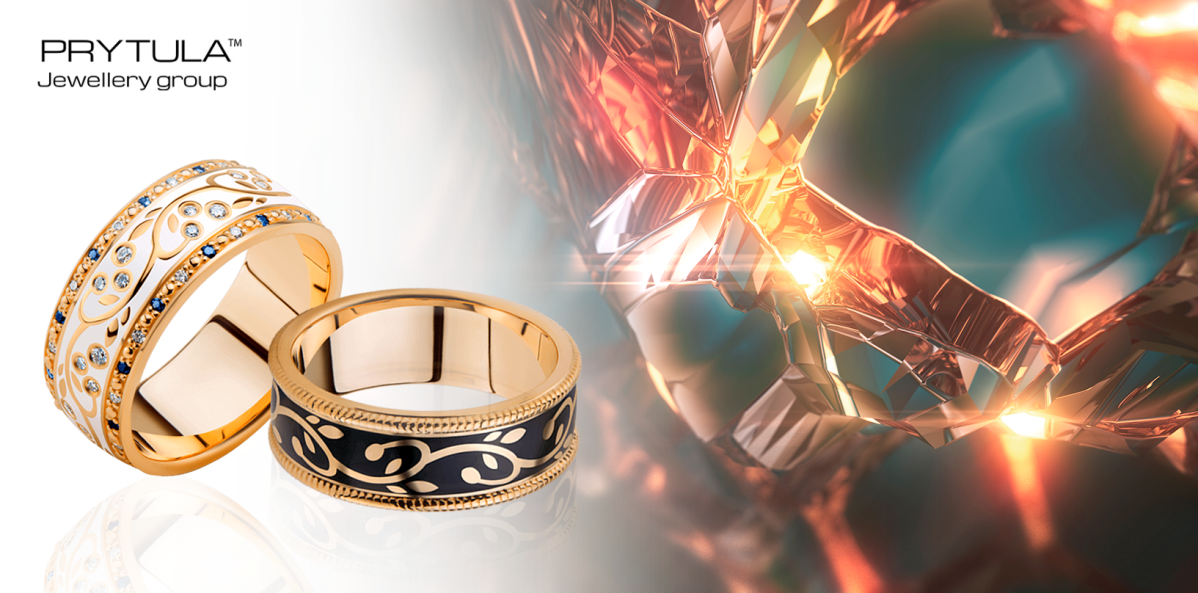 Our Angelic Beauty wedding rings with black and white diamonds are also a source of great pride for us.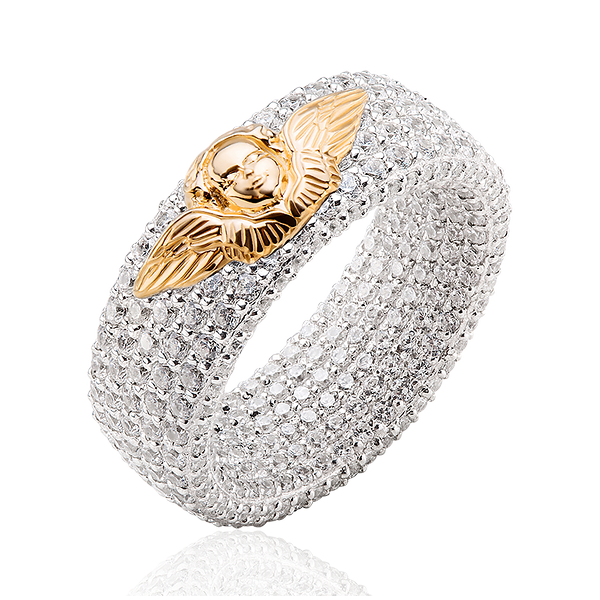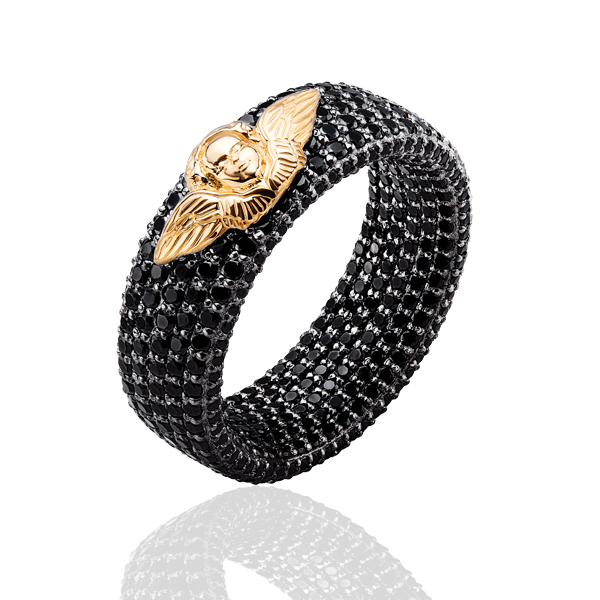 These wedding rings are truly unique, since our expert jewellers managed to set 1,162 diamonds using the most sophisticated pavé diamond setting technique. This is an all-time record. It is impossible to set more diamonds into a pair of wedding rings. Diamonds in wedding rings are securely set on top, on the sides and inside the ring band.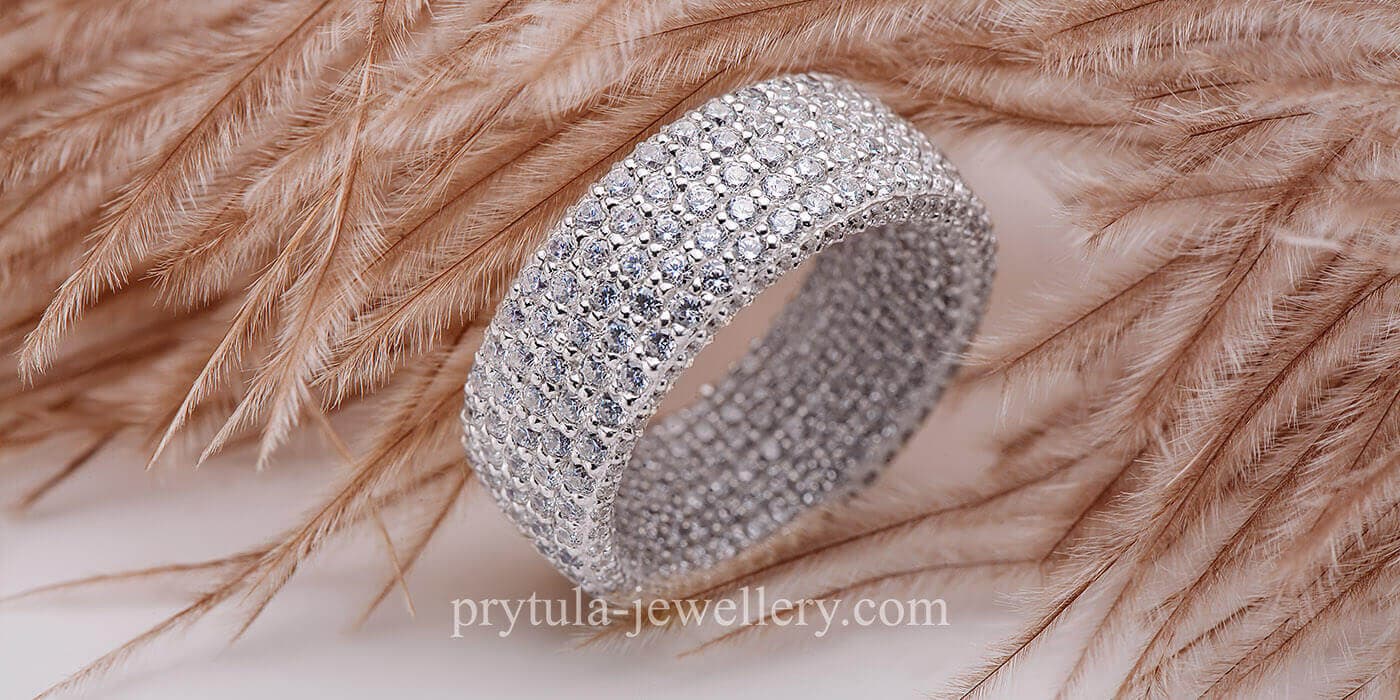 This is a unique piece of artisanship of extraordinary complexity. The women's ring is studded with 523 diamonds (4.76 Ct), and the men's ring – with 639 black diamonds (6.62 Ct). The two rings are set with 1,162 diamonds, a total of 11.38 carats (!) of black and white diamonds.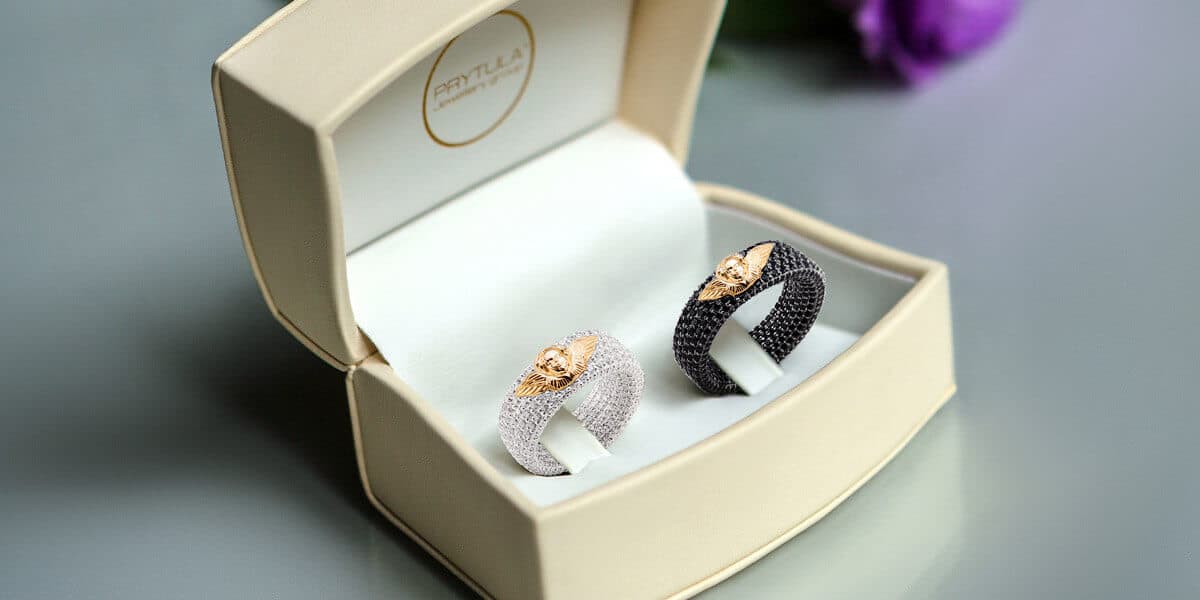 Successful couples who want to wear unique, striking, spectacular and special wedding rings prefer this design.
The Angelic Beauty wedding rings with black and white diamonds from Prytula Jewellery Group are a great masterpiece of jewellery art!
If none of these wedding ring designs speaks to your heart, you can always contact our jewellery designers. Our consultant jewellers will advise clients not only from Ukraine, but also from Europe, the United States, the Persian Gulf and other regions of the world. Our jewellery designers and 3D artists from the Design Division will create a bespoke piece of jewellery, taking into account all your requirements. Thanks to the professionalism and considerable experience of our jewellers, your exclusive custom made wedding rings will be exactly as you wish them to be.